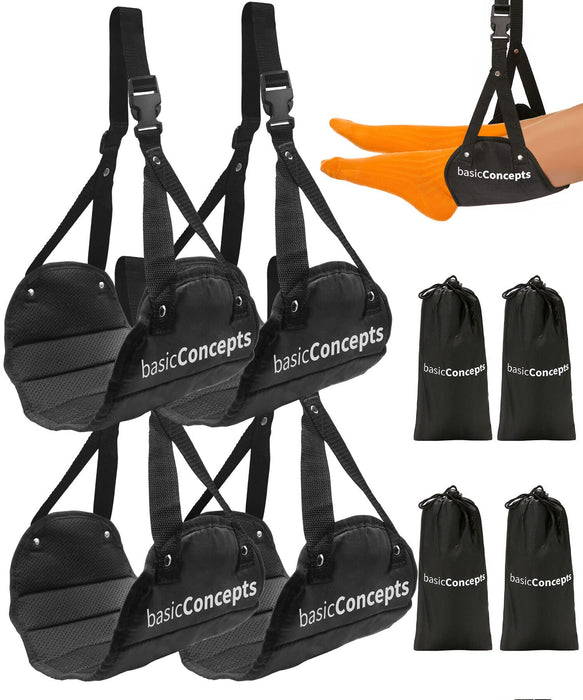 Airplane Foot Hammock (4 Pack), Perfect Airplane or Office Footrest to Relax Your Feet (Memory Foam) - Foot Hammock for Airplane Travel Accessories, Desk Foot Hammock, Comfy Foot Hanger Airplane
Sold out
Original price
$24.99
-
Original price
$39.99
Your new best friend is here, the BASIC CONCEPTS bath pillow. Made from some of the best quality bath pillows for tub neck and back support 3D mesh, we understand hard porcelain or plastic is uncomfortable. That's why we designed the ultra-comfortable tub pillow for bath and as part of our bath accessories product line. Enjoy neck, back and shoulder support with our luxury bathtub pillow while you decompress in the bathtub or hot tub after a long day. Every tub pillow has four powerful suction cups to hold your bath tub pillow headrest securely in place while you relax. Unlike other tub pillow for back and head, we use high-powered suction cups that will actually stick to your tub. Each bath cushion is made with exclusive, high-quality foam to create an essential pillow for bathtub product use worth using. The well-thought-out design makes reclining a comfortable and soothing experience. Don't settle for a bathtub cushion made of cheap, scratchy materials. Cheap materials irritate your beautiful skin and make your bath unpleasant. We make all of our bathtub accessories for adults with high-quality materials. Your bathtub pillows for head and back will be no exception. You'll love the 3D mesh as it soothes even the most difficult days. Leave the irritating polyester or nylon bath neck pillows for tub use at the store. Precious bath time shouldn't be wasted fiddling with a bath tub pillow rest that doesn't work. Our bath pillows a free from any harmful ingredients or materials. The luxury 3D Mesh lining and ultra-soft bath pillow for bathtub design will have your body feeling brand new. Leave your bathtub pillow for soaking tub in place or hang it up to dry in the bathroom with the attached hook. Every bath neck pillow is machine washable. It truly is a must have bath accessories for women. We want you to be thrilled with your hot tub accessories bath spa pillow. At the end of the day, you come first. We're happy to assist you in any way we can.
Travel Comfortably - Long flights can be uncomfortable for many reasons. We're here to solve at least one of them. With our travel-sized airplane footrest, you can give your feet and lower-back the vacation they deserve. Who needs 1st Class anyways? With our travel foot rest, you can kick your feet up and relax wherever you go. Add a foot hammock to your list of travel essentials today.
Your New Favorite Travel Accessory - Your new leg rest for airplane travel will arrive in a convenient travel bag. Each airplane leg rest is evenly-padded for ultimate comfort. The extra-long adjusts from 17"to 34" and has a depth of 9" with an 18" width. You'll have plenty of space to relax. Plus, you can use your new foot hanger for plane travel on any flight without disturbing the person in front of or next to you! This is one of the best airplane travel accessories you'll find.
Suitable for All Travelers - Many times, a footrest hammock is too short, even for a small child. We specially design our air travel accessories to accommodate travelers of all sizes - even kids. It's so compatible, in fact, that you can use your foot sling for air travel on planes and trains. Some of our customers even hang their foot rest airplane hammock in the car! Our airplane footrest is guaranteed to provide you with comfort, whether you're 4ft or 7ft tall.
Office Footrest - Your new airplane foot rest is straightforward to use. It has an extra-long adjustable strap. Travelers of any height can find comfort with our foot rest for airplane travel. Simply wrap your plane foot rest around the seat tray in front of you, and adjust the strap to your desired length. Place your feet in your new comfy airplane foot hammock, relax, and settle in for a smooth flight!
24/7 USA Customer Support, Lifetime Replacement - Finding the right foot hammock from a reliable, trustworthy company is challenging. We offer a lifetime replacement should anything happen to your new airplane foot hammock. Just send us a message, and one of our friendly, USA-based customer support members will send you a replacement airplane footrest at no cost, no questions asked. Great products, better service…we exist to serve you!